Updated June 25, 2021.
Dungeons and Dragons, a tabletop roleplaying game where a group of friends work through a storyline featuring adventure, action, mystery and monsters, has had a resurgence in popularity. It's not just 40-something adults who enjoy playing the same (which started in the 1980s), but teens and even tweens are super into it.
My library has a very popular monthly D&D program, and several of the schools nearby have after-school D&D clubs running. Part of the popularity amongst teens comes from sources like Stranger Things, the Adventure Zone podcast and Critical Role Youtube channel– but it's sustained throughout the years by how FUN it is to play!
Think of it like living out a fantasy/adventure book, where you're a main character who, along with your group of friends, get to save the world. Totally exciting, right?
>> Want to start your own family D&D night? Snag the official Essentials Kit with everything you need to get started.
So the books on this list is for teens who love D&D (or another fantasy roleplaying game) and who want to read books with a similar vibe. Included on the list are books with: high fantasy, adventure, action and fights (with or without monsters), plucky protagonists, fantasy creatures, friendship, overcoming prejudice, family, and more.
Let me know if you've read any of these books yourself, and feel free to leave a comment with any suggestions you might have!
Action, adventure, friendship!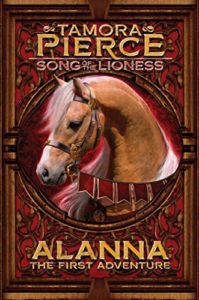 Sunbolt by Intisar Khanani. Protagonist of color. Orphaned at a young age, Hitomi has learned to hide her magical aptitude and who her parents really were. Most of all, she must conceal her role in the Shadow League, an underground movement working to undermine the powerful and corrupt Arch Mage Wilhelm Blackflame.
Children of Blood and Bone by Tomi Adeyemi. Protagonist of color. Zélie Adebola remembers when the soil of Orïsha hummed with magic. Burners ignited flames, Tiders beckoned waves, and Zélie's Reaper mother summoned forth souls. But everything changed the night magic disappeared. Under the orders of a ruthless king, maji were killed, leaving Zélie without a mother and her people without hope. Now Zélie has one chance to bring back magic and strike against the monarchy. With the help of a rogue princess, Zélie must outwit and outrun the crown prince, who is hell-bent on eradicating magic for good.
Alanna: The First Adventure by Tamora Pierce. Though a girl, Alanna has always craved the adventure and daring allowed only for boys; her twin brother, Thom, yearns to learn the art of magic. So one day they decide to switch places: Thom heads for the convent to learn magic; Alanna, pretending to be a boy, is on her way to the castle of King Roald to begin her training as a page. But the road to knighthood is not an easy one. As Alanna masters the skills necessary for battle, she must also learn to control her heart and to discern her enemies from her allies.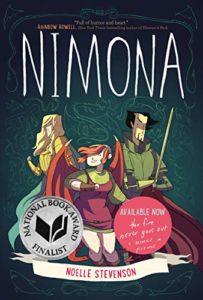 A Wizard of Earthsea by Ursula K. LeGuin. Protagonist of color. A classic in young adult fantasy, this story is about Ged, the greatest sorcerer in Earthsea who made a terrible mistake and let loose a terrible shadow upon the world. The first in a 6 book series.
Nimona by Noelle Stevenson. Graphic novel. Nimona is a shapeshifter with a penchant for villainy, and as Lord Ballister Blackheart's sidekick she's ready to wreak some serious havoc. As small tricks turn into large scale battles, Nimona's wild side might be more dangerous than anyone is willing to admit. National Book Award Finalist.
The Hero and the Crown by Robin McKinley. Another classic in young adult fantasy fiction, this series is sadly under-read (maybe because of the old-fashioned covers). Aerin is the king's daughter, but she's never been accepted among the court's royals. But as it turns out, she's got a future as the hero who will wield the power of the Blue Sword. Newbery Medal winner.

The Adventurers Guild by Zack Loran Clark and Nick Eliopulos. Best friends Zed Kagari and Brock Dunderfel unexpectedly join the Adventurers Guild, the last line of defense against unnatural beasts from otherworldly planes. Lots of action, a great middle grade pick for younger readers.
The Stowaway by R.A. Salvatore and Geno Salvatore. Maimun, a young teen marked for death for a secret he guards, escapes his village and stows away on the pirate hunting ship Sea Sprite. There he befriends the dark elf Drizzt Do'Urden (of Salvatore's popular Drizzt saga for adult reads), and together they navigate dangerous waters and angry half-demon assassins.
Eragon by Christopher Paolini. Not merely a poor farm boy, 15-year-old Eragon is actually destined to be a Dragon Rider! Armed with an ancient sword, a dragon companion, and advice from an old storyteller, Eragon must save the Empire. A huge chunky book good for kids who read REALLY FAST.

The Hobbit by J.R.R. Tolkien. Bilbo Baggins gets drawn into an epic adventure with a company of dwarves and one meddling wizard. A classic, and one of my favorites to give to young readers. True fantasy fans will of course continue onward to read The Lord of the Rings series.
Howl's Moving Castle by Diana Wynne Jones. Sophie is the eldest of three daughters, and thus destined to a horrible fate. Being cursed into the body of a grandmother would seem to fit that, as would moving into the house of a heart-eating wizard. But there's more to Sophie than meets the eye… (This is the book that the Ghibli movie is based on. I love the book a little more than I love the movie, actually!)
Dark Lord of Derkholm by Diana Wynne Jones. Yes, there are TWO Diana Wynne Jones books on this list (and honestly, I could put a LOT more. She was a wonderful author!). This one is more of a pastiche of fantasy settings than Howl's Moving Castle– it's set on a world where tourists come to experience a high fantasy setting, something like a theme park for people who like dragons. At times funny, other times sad or scary, at the heart of the story is a family who loves each other no matter what.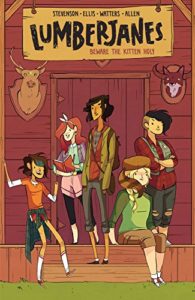 Lumberjanes by Shannon Watters, Grace Ellis, Brooklyn A. Allen and Noelle Stevenson. Graphic novel; LGBTQ+ representation. Friends Jo, April, Mal, Molly, and Ripley are determined to have an awesome summer at Miss Qiunzella Thiskwin Penniquiqul Thistle Crumpet's Camp for Hardcore Lady Types, but a magical quest full of supernatural creatures might make that a little difficult. A fun pick for kids who like their fantasy set in a more contemporary setting (but not QUITE like our world).
Flora Segunda by Ysabeau S. Wilce. Flora took a wrong turn in her huge family home, Crackpot Hall. Now she's lost in her house, late for school, and caught in a mess of intrigue, betrayal, and adventure.
Sabriel by Garth Nix. Sabriel lives outside of the walls of the Old Kingdom, a world of magic and danger. But now her father is missing, and Sabriel must cross over the wall to find him. There she find an evil with threatens her life, her family, and the entire Kingdom. One of my absolute favorite series, a fantastic teen fantasy with amazing characters.
---
If you found this post helpful, please share with your friends!