The Rainbow Magic series by Daisy Meadows is one of the most popular fantasy series for 2nd-3rd graders. When I worked at an elementary school library, my entire Rainbow Magic collection would be checked out as fast as I could re-shelve it. If your child hasn't started reading them already, it's only a matter of time before they get hooked.
Rainbow Magic is a long-running series with hundreds of books, all starring fairies and their friends. They're short (under 100 pages) and written at a lower reading level, so they've very popular for getting kids started on easy-to-read chapter books. Kids tend to blast through a dozen or more of the Rainbow Magic books in a school year and frequently re-read their favorites. They LOVE the Rainbow Magic series, which is why it's one of my go-to recommendations for both reluctant readers and kids who read a lot. The reluctant readers have something fun to practice reading chapter books, and the speed-readers have a huge selection of books to read through.
>> Need Rainbow Magic readalikes for your 2nd grader? Check out this list of suggested books.
However, eventually their reading level develops beyond 2nd/3rd grade and they start getting bored with easy chapter books. (The stories also tend to be formulaic.) Finding a similarly-themed series with a higher reading level and a more involved storyline can be tricky, which is why I've put this list together.
*This post contains affiliate links. Read our full disclosure policy here.
These books all have slightly higher reading level books (4th-6th grade or so), a 100+ page count, and have similar themes to the Rainbow Magic series. I've got fairy books for kids who only liked the fairy characters, fantasy books for kids who liked the fantasy setting, and some fantasy-animal books for kids who liked having huge series that're also easy to read. So really there's something for everyone!
Chapter books with fairies
Tales of Pixie Hollow series
A Peter Pan/Never Land-related Disney series, this one is focused on fairies such as Tink and Prilla, Rani and Beck. Each book is written by a different author, and you don't need to read them in a particular order. The covers are kinda old-fashioned looking (which might be a turn-off with some picky readers), but these were written in the early 2000s…hopefully they'll get a cover refresh sometime soon.
First book: The Trouble with Tink
Tinker Bell is supposed to be the best there is at fixing pots and pans, but when she loses her hammer, her talent goes with it. Tink is desperate to reclaim her skill. But does she have the courage to face up to her past?
Reading level: 3rd-4th grade
Total books: 27
Average page count: 110
Never Girls series by Kiki Thorpe
Four human girls make their way to Never Land, where they meet faeries, mermaids, and other fantastical creatures. This is a Disney property, so the faeries are ones from their Peter Pan/Never Land series of media (Tinker Bell, etc.). Kiki Thorpe also wrote several books in the Pixie Hollow series.
First book: In a Blink
The smell of salt water, a gust of seabreeze, and the bell-like ringing of a fairy's laugh are the only hints that something magical is happening to Kate, Mia, Lainey, and Gabby. In a blink of an eye, the four friends are whisked out of their ordinary lives to the most wonderful place of all—Never Land, home to fairies, mermaids . . . and now four lost girls. The girls don't want to leave right away, but Queen Clarion and Tinker Bell have figured out a way for them to get home. Will Kate, Mia, Lainey, and Gabby's fantastic adventure end before it's barely begun?
Reading level: 3rd-4th grade
Total books: 13
Average page count: 128
The Faerie's Promise by Kathleen Duey
Another actual fairy book! This series is a little more serious than Rainbow Magic, but it has similar themes of friendship and adventure. It's also a companion series to The Unicorn's Secret, which has 8 books.
First book: Silence and Stone
Alida is a faerie princess, imprisoned for years in the castle of Lord Dunraven to protect an ancient law prohibiting contact between humans and faeries. So when a human boy, Gavin, helps Alida escape to search for her long-lost family, their flight is filled with danger. Can they avoid Lord Dunraven's guards? How can they keep Alida's identity a secret?
Reading level: 3rd-4th grade
Total books: 4
Average page count: 110
Chapter books with other fantasy creatures
Emily Windsnap series by Liz Kessler
This series about a 12-year-old mermaid and her friends has been in publication since 2003! Lots of underwater adventures and exciting storylines, plus some really fabulous covers. Girls who enjoy fairy books tend to also enjoy books about mermaids, making this another good option for a Rainbow Magic readalike.
First book: The Tail of Emily Windsnap
For as long as she can remember, twelve-year-old Emily Windsnap has lived on a boat. And, oddly enough, for just as long, her mother has seemed anxious to keep her away from the water. But when Mom finally agrees to let her take swimming lessons, Emily makes a startling discovery – about her own identity, the mysterious father she's never met, and the thrilling possibilities and perils shimmering deep below the water's surface. With a sure sense of suspense and richly imaginative details, first-time author Liz Kessler lures us into a glorious undersea world where mermaids study shipwrecks at school and Neptune rules with an iron trident – an enchanting fantasy about family secrets, loyal friendship, and the convention-defying power of love.
Reading level: 3rd-4th grade
Total books: 10 (and counting)
Average page count: 210
Poison Apple series
If I hadn't seen the same group of kids who checked out the Rainbow Magic books check out this series, I might've not thought to put Poison Apple on this list. This series a little bit spooky, a little gothic, and star monsters like vampires and werewolves. However, I think the Poison Apple series resonates with the Rainbow Magic kids because of the strong themes of friendship (finding it, keeping it, helping your friends, etc.) and self-confidence. Also, the characters are in middle school, something which fascinates the elementary school kids.
Each book is written by a different author, and they don't need to be read in a particular order.
First book: The Dead End
Casey Slater can't believe her bad luck. It's the summer before seventh grade, and instead of the perfect vacation she'd planned with her best friend, Casey is in a remote country town, where her parents are restoring an old, creaky, creepy house. Worst of all, everyone else in town thinks the old house is haunted. And soon Casey thinks so, too — a vase explodes, a heavy china cabinet falls over on its own — and it seems like the ghost doesn't want them there. Casey thought she'd be dying of boredom, but now she's scared to death!"
Reading level: 4th-5th grade
Total books: 12
Average page count: 192
Chapter books with fantasy settings
Goddess Girls series by Joan Holub and Suzanne Williams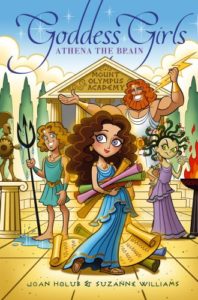 This series is based on classical Greek mythology– a little bit of a stretch from fantasy rainbow fairies, but it has similar themes of friendship, adventure, and self-confidence. It's also a really fun series!
First book: Athena the Brain
Athena has always been above average. She has never quite fit in at Triton Junior High, but who would've guessed that Athena is actually a goddess? Principal Zeus's daughter, to be exact.
When she's summoned to Mount Olympus Academy, Athena thinks she might actually fit in for the first time in her life. But in some ways, school on Mount Olympus is not that different from down on Earth, and Athena is going to have to deal with the baddest mean girl in history: Medusa!
Reading level: 4th-5th grade
Total books: 26
Average page count: 160
The Wide-Awake Princess series by E.D. Baker
This series stars Sleeping Beauty's non-magical little sister, Princess Annie, who has to save her sister and the kingdom from being cursed. It's a light-hearted and cheerful series good for readers who want more classic fairy-tale fantasy elements in their books.
First book: The Wide-Awake Princess
In this new stand-alone fairy tale, Princess Annie is the younger sister to Gwen, the princess destined to be Sleeping Beauty. When Gwennie pricks her finger and the whole castle falls asleep, only Annie is awake, and only Annie-blessed (or cursed?) with being impervious to magic-can venture out beyond the rose-covered hedge for help. She must find Gwen's true love to kiss her awake.
But who is her true love? The irritating Digby? The happy-go-lucky Prince Andreas, who is holding a contest to find his bride? The conniving Clarence, whose sinister motives couldn't possibly spell true love? Joined by one of her father's guards, Liam, who happened to be out of the castle when the sleeping spell struck, Annie travels through a fairy tale land populated with characters both familiar and new as she tries to fix her sister and her family . . . and perhaps even find a true love of her own.
Reading level: 5th-6th grade
Total books: 7
Average page count: 260
Whatever After series by Sarah Mlynowski
Two siblings get magically transported into a fairy tale! Each book is set in a different classic tale, such as Cinderella, Little Mermaid, and Sleeping Beauty. This series is heavy on the adventure, and written for a slightly younger group of readers than the Wide-Awake Princess or Castle Glower series.
First book: Fairest of All
Once upon a time my brother and I were normal kids. The next minute? The mirror in our basement slurped us up and magically transported us inside Snow White's fairy tale. I know it sounds crazy, but it's true.But hey — we're heroes! We stopped Snow White from eating the poisoned apple. Hooray! Or not. If Snow White doesn't die, she won't get to meet her prince. And then she won't get her happy ending. Oops. Now it's up to us to:- Avoid getting poisoned- Sneak into a castle- Fix Snow White's storyBut Snow White's REAL happy ending might not be quite what we expected . . .
Reading level: 2nd-3rd grade
Total books: 17
Average page count: 170
Castle Glower series by Jessica Day George
This is a really fun fantasy series about a princess who lives in a magical castle that grows new rooms every Tuesday. Good for kids who like fantasy-adventure stories, but not necessarily fairy-tale settings.
First book: Tuesdays at the Castle
Tuesdays at Castle Glower are Princess Celie's favorite days. That's because on Tuesdays the castle adds a new room, a turret, or sometimes even an entire wing. No one ever knows what the castle will do next, and no one-other than Celie, that is-takes the time to map out the new additions. But when King and Queen Glower are ambushed and their fate is unknown, it's up to Celie, with her secret knowledge of the castle's never-ending twists and turns, to protect their home and save their kingdom.
Reading level: 5th-6th
Total books: 5
Average page count: 225
The Land of Stories by Chris Colfer
These are HUGE and chunky books for kids who read a lot and aren't afraid to pick up a 400+ book. The Land of Stories series is heavy on adventure and fantasy, and despite its hefty size is actually pretty fast-paced and exciting. There's also a sequel series currently being published: A Tale of Magic.
First book: The Wishing Spell
The Land of Stories tells the tale of twins Alex and Conner. Through the mysterious powers of a cherished book of stories, they leave their world behind and find themselves in a foreign land full of wonder and magic where they come face-to-face with the fairy tale characters they grew up reading about.
But after a series of encounters with witches, wolves, goblins, and trolls alike, getting back home is going to be harder than they thought.
Reading level: 5th-6th
Total books: 6
Average page count: 450
Ever After High series by Shannon Hale
This series is set in a magical high school, but they're definitely written for younger kids. And yes, it's based on the doll line of the same name! This series would be good for readers who enjoy fantasy-adventure stories with female characters. Bonus if they've got some of the dolls already, too.
First book: The Storybook of Legends
At Ever After High, an enchanting boarding school, the children of fairytale legends prepare themselves to fulfill their destinies as the next generation of Snow Whites, Prince Charmings and Evil Queens…whether they want to or not. Each year on Legacy Day, students sign the Storybook of Legends to seal their scripted fates. For generations, the Village of Book End has whispered that refusing to sign means The End-both for a story and for a life.
As the daughter of the Evil Queen, Raven Queen's destiny is to follow in her mother's wicked footsteps, but evil is so not Raven's style. She's starting to wonder, what if she rewrote her own story? The royal Apple White, daughter of the Fairest of Them All, has a happy ever after planned for herself, but it depends upon Raven feeding her a poison apple in their future.
What if Raven doesn't sign the Storybook of Legends? It could mean a happily never after for them both.
Reading level: 4th-5th grade
Total books: 5
Average page count: 300
---
If you found this post helpful, please share with a friend!