What is the Lodestar Award?
The Lodestar Award is a relatively newer award established in 2018 by the World Science Fiction Society, the same people who do the Hugo Awards for scifi/fantasy media. It's presented alongside the Hugo every year at the World Science Fiction Convention, usually in the fall.
What is this reading list?
Award lists are great to use as a starting point for exploring a specific genre or subset of books, especially if you aren't familiar with what's out there and aren't sure where to start. Since each book nominated was published within the year, it's also a great way to keep up with what's new on the shelves.
On the family reading side of things, award lists are also a good way to find books for readers who need something in a higher reading level– such as middle schoolers who're moving on to high school. And finally, in any situation where you need to buy someone a birthday book, award lists are a good place to start narrowing down what to buy.
All of the books on this list fall under the "young adult" reading category, meaning they're appropriate for kids roughly grades 8-12.
This is the complete listing of every nominated book and winner for the Lodestar Award, since its beginning in 2018. This post will be updated whenever new finalists and winners are announced.
*This post contains affiliate links. Read our full disclosure policy here.
Printable Checklist
Don't wanna scroll all the way through this post? Get a free printable checklist with every book title and take it with you to the library!
(Coming soon.)
Lodestar Award Nominees & Winners
2022 List
Chaos on CatNet by Naomi Kritzer.
Book summary: "When a mysterious entity starts hacking into social networks and chat rooms to instigate paranoia and violence in the real world, it's up to Steph and her new friend, Nell, to find a way to stop it―with the help of their benevolent AI friend, CheshireCat."
Librarian's note: This is a sequel to Catfishing on CatNet, which was nominated in 2020.
Iron Widow by Xiran Jay Zhao.
Book summary: "The boys of Huaxia dream of pairing up with girls to pilot Chrysalises, giant transforming robots that can battle the mecha aliens that lurk beyond the Great Wall. It doesn't matter that the girls often die from the mental strain.
When 18-year-old Zetian offers herself up as a concubine-pilot, it's to assassinate the ace male pilot responsible for her sister's death. But she gets her vengeance in a way nobody expected—she kills him through the psychic link between pilots and emerges from the cockpit unscathed. She is labeled an Iron Widow, a much-feared and much-silenced kind of female pilot who can sacrifice boys to power up Chrysalises instead.​
To tame her unnerving yet invaluable mental strength, she is paired up with Li Shimin, the strongest and most controversial male pilot in Huaxia​. But now that Zetian has had a taste of power, she will not cower so easily. She will miss no opportunity to leverage their combined might and infamy to survive attempt after attempt on her life, until she can figure out exactly why the pilot system works in its misogynist way—and stop more girls from being sacrificed."
Librarian note: This author is prolific on TikTok, and their videos have gone viral multiple times, so don't be surprised if teens knew them already. The sequel comes out in Spring 2023.
The Last Graduate by Naomi Novik.
Book summary: "In Wisdom, Shelter. That's the official motto of the Scholomance. I suppose you could even argue that it's true—only the wisdom is hard to come by, so the shelter's rather scant.
Our beloved school does its best to devour all its students—but now that I've reached my senior year and have actually won myself a handful of allies, it's suddenly developed a very particular craving for me. And even if I somehow make it through the endless waves of maleficaria that it keeps throwing at me in between grueling homework assignments, I haven't any idea how my allies and I are going to make it through the graduation hall alive.
Unless, of course, I finally accept my foretold destiny of dark sorcery and destruction. That would certainly let me sail straight out of here. The course of wisdom, surely.
But I'm not giving in—not to the mals, not to fate, and especially not to the Scholomance. I'm going to get myself and my friends out of this hideous place for good—even if it's the last thing I do."
Librarian's note: This is a sequel to A Deadly Education, which was nominated in 2021.
Redemptor by Jordan Ifueko.
Book summary: "For the first time, an Empress Redemptor sits on Aritsar's throne. To appease the sinister spirits of the dead, Tarisai must now anoint a council of her own, coming into her full power as a Raybearer. She must then descend into the Underworld, a sacrifice to end all future atrocities.
Tarisai is determined to survive. Or at least, that's what she tells her increasingly distant circle of friends. Months into her shaky reign as empress, child spirits haunt her, demanding that she pay for past sins of the empire.
With the lives of her loved ones on the line, assassination attempts from unknown quarters, and a handsome new stranger she can't quite trust . . . Tarisai fears the pressure may consume her. But in this finale to the Raybearer duology, Tarisai must learn whether to die for justice . . . or to live for it."
Librarian's note: This is the sequel to Raybearer, which was nominated in 2021.
A Snake Falls to Earth by Darcie Little Badger.
Book summary: "Nina is a Lipan girl in our world. She's always felt there was something more out there. She still believes in the old stories.
Oli is a cottonmouth kid, from the land of spirits and monsters. Like all cottonmouths, he's been cast from home. He's found a new one on the banks of the bottomless lake.
Nina and Oli have no idea the other exists. But a catastrophic event on Earth, and a strange sickness that befalls Oli's best friend, will drive their worlds together in ways they haven't been in centuries.
And there are some who will kill to keep them apart."
Victories Greater Than Death by Charlie Jane Anders.
Book summary: "Tina never worries about being 'ordinary'–she doesn't have to, since she's known practically forever that she's not just Tina Mains, average teenager and beloved daughter. She's also the keeper of an interplanetary rescue beacon, and one day soon, it's going to activate, and then her dreams of saving all the worlds and adventuring among the stars will finally be possible. Tina's legacy, after all, is intergalactic–she is the hidden clone of a famed alien hero, left on Earth disguised as a human to give the universe another chance to defeat a terrible evil.
But when the beacon activates, it turns out that Tina's destiny isn't quite what she expected. Things are far more dangerous than she ever assumed–and everyone in the galaxy is expecting her to actually be the brilliant tactician and legendary savior Captain Thaoh Argentian, but Tina….is just Tina. And the Royal Fleet is losing the war, badly–the starship that found her is on the run and they barely manage to escape Earth with the planet still intact.
Luckily, Tina is surrounded by a crew she can trust, and her best friend Rachel, and she is still determined to save all the worlds. But first she'll have to save herself."
Results for this year will be announced Sunday, September 4, 2022 in Chicago, Illinois.
Save this post for later: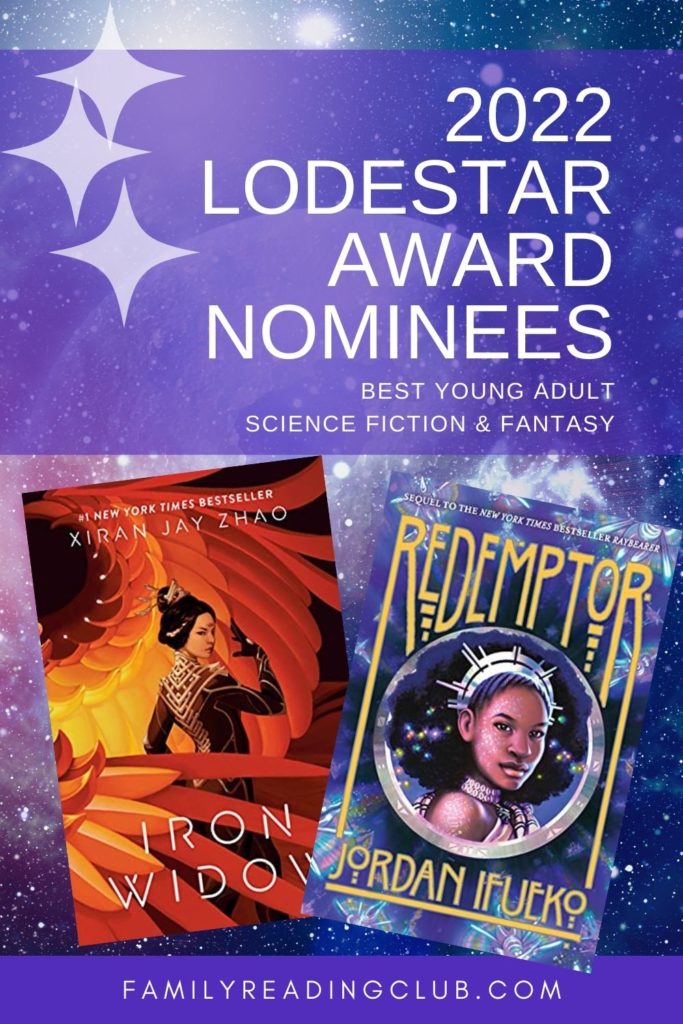 Keep reading for previous years' nominees and winners:
2021 List
2020 List
2019 List
2018 List
Last updated June 5, 2022.